How was Kai Chi Do at the St. Petersburg Yoga Festival?  AWESOME!  Check it out:
My friend Kate saw a preview of this little video while I was making it.  She said, "All the people are so beautiful!"
And I said, "People are beautiful when they're happy."
Love the music?  It's "Story of Ohm" by Paniq
Shared under Creative Commons copyright CC-BY-SA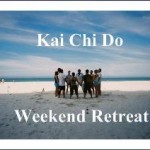 The Kai Chi Do Weekend Retreat is November 11-13th, and there's still a few openings.
Uplift your consciousness.  Join us!
{
3

comments
}