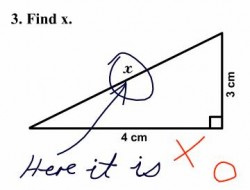 When our daughter was little and learning basic math, she used a variety of devices to represent the quantities associated with numbers.  She used objects, an abacus, and tapping her pencil to count.
Her grandmother was delighted when our little girl finally settled on using her fingers as counting aids.  When I asked Grandma why, she smiled, wiggled her fingers in the air, and said, "Her fingers are always available."
Useful beliefs are a lot like using your fingers as counting aids.  They are always available.  They keep you self-reliant, because you don't need anyone else's help to be able to use them.  They don't require any special technical skills.  You can take them for granted and only pull them out when you need them.
You might ask, "Isn't there some objective truth?  You can't argue facts."
Often times we don't know all the facts.  We may have limited information.  Most things are open to interpretation.  We respond primarily to our particular view of the facts, rather than to the facts themselves.  We respond to the meaning that the events or facts hold for us. Sometimes, you have to look at facts in context of the bigger picture.
Abraham-Hicks uses a charming analogy to illustrate this point:  If men broke into your home with axes and hoses and broke up your furniture and flooded the interior of your home with water, you'd be outraged.  Unless those were firemen saving your home from flames.
A useful belief is a thought that feels better.  But don't go looking for somebody else to do the math for you.  Dogma is blind belief, adopting a system of beliefs prescribed by someone else.
Beliefs are only useful when they are true to you, and when they feel good to you.   You can learn from other people but ultimately you decide.  You just have to ask yourself: does this thought feel good?  And if the answer is no, reach for another point of view.  A single thought can make all the difference.